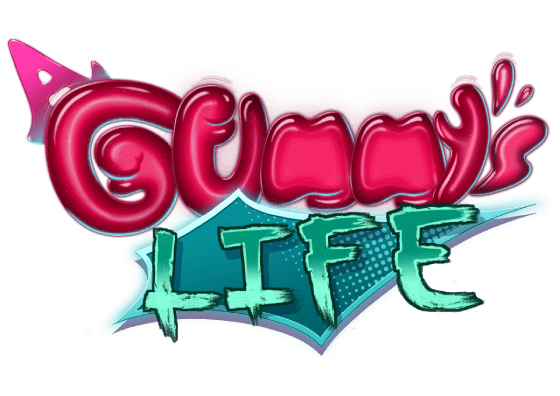 Warning! The gummies have come to life… and they have gone fruit loopy!
The gummies have invaded the city, they're everywhere: in the football stadium, the park, the fortress, the fairground, even in the beehive?!
It's impossible to keep your eyes off the relentless free-for-all gummy action with their floppy fist fights and sweet yet savage sucker punches.
They say the pen is mightier than the sword, but since gummies don't have pens, they use their surroundings to terrible effect. And you thought there were so sweet!
Pick and mix
So many gummies to choose from: Bear, Cola, Watermelon, Egg, Banana, Shark and many more.
Choose your preferred flavour and jump into the hilarious wacky battles with friends and family. Unlock different cosmetics to customize your gummies even more.
There can only be one champion, so show everyone who rules over the sugar! Its winner takes all and that includes the newly unlocked gummies to play with. 
Battle royale with up to 16 contestants

Play with up to 8 players online or have local multiplayer brawls with up to 16 friends.
Easy to play, hard to master

Button bash your way to victory or plan a strategic strike to take your opponents out.
Multiple game modes

Hot Potato, King of the Hill, Team Deathmatch and the endlessly fun Free-for-all mode.
Unlockable cosmetics!

Play online to unlock different hats and glasses to make your battles even funnier.
Full controller and keyboard support

Controllers are fully supported with personalised profiles and customizable control layouts. While controller use is highly recommended, keyboard and mouse can equally do the trick.
Tons of levels with various game styles and mechanics

You'll find something new in each level with each one requiring a different way to be played. Have fun discovering all their secrets!
You can never have too many gummies
(don't say that to your dentist)

The difference in gummies is more than superficial. Choose the gummy with the stats that best match your play style. Plus! There are lots of gummies yet to be unlocked!
Crazy physics-based battles

Land some skittle smashing hits and teeth cracking throws. Every fight is unique and will leave a lasting taste in your mouth.
Content updates galore

Since Day One there have been regular updates and there are plenty more to come. Join our social channels with your suggestions – all are welcome!
Tasty taunts!

The only thing that tastes as good as victory is rubbing it in your opponent's face. Be careful though, it may whip them up into a frenzy.
Universal fun

Everyone loves gummies and anyone can play A Gummy's Life.
We keep our game constantly updated with improvements, new fuctions, new maps, new characters and new game modes.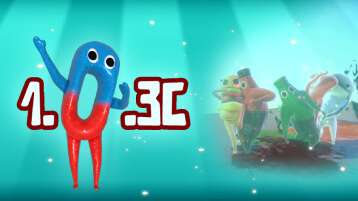 Fixes on PC & Switch
Patch Notes 1.0.3c:
Fixes:

AIs used to take control over the player's gummy in rare cases of a bit of lag detected; we have a system to ensure other players can still play if one loses connection, but hey, a bit of lag should not make you lose your character!

Gummies would get stuck in the online hub if they got out & in of a game very quickly; we explained to them how agile humans are and they'll handle it better from now on.

Fixed an issue with the internal clock synchronization in online mode that caused, on some occasions, that other players were not seen moving.

Sudden death after a draw at the end of an online game was not working, but there can only be one champion!

Steam only: Remaping the keyboard controls was not working properly.
Fixes and minor improvements on PC & Switch
Patch Notes 1.0.3b:
Improvements:

You can now raise your arms up in the character selection screen, even if you didn't lock your gummy, to make it easier to recognize your spot in the screen.

Fixes:

You can unlock the Egg again, an evil bug made it impossible, sorry!

Fixed the height being wrongly displayed on some texts.

Fixed some rare cases with the pause menu.
New improvements on PC & Switch
Patch Notes 1.0.3a:
Improvements:

The Gummy Ring now has a purple color.

The names of players will now show correctly with the game font in all languages.

Improved the online synchronization of multiple jumps and falls (on Dakongo's liana for example).

Improved the online synchronization of the movement in Tagada.

Improved performance in Tagada.

Steam only

: better movement feeling with high FPS in Tagada.


Fixes:

Sometimes KO'd gummies would not replicate the correct position in online mode.

Some gummies had their arm vibrating when using the Bowing Taunt.

In rare cases a player disappeared in the online mode until the next level.

The player boxes on Robox were not synchronizing as they were supposed to.
Complete visual revamp on Switch &

 New balance and improvements on PC & Switch
Patch Notes 1.0.3:
Improvements:

Switch only

: Visual and Performance revamp, everything should look much better and perform better!

Switch only:

You can now invite your friends to your Private Match in Online mode!

You can now jump on top of A Frog's Life cars.

Revamp of how the collisions on moving platforms work. They should work perfectly now.

Training mode now starts immediately instead of a 3… 2… 1… counting down

Improved synchronization of the online player movements with high ping players

Improved synchronization of the online player jumps with high ping players

AI now jumps down of Dakongo superior platforms after being thrown by the cannon

AI on hard mode now knows how to follow you if you climb walls

AI on hard mode does not try to grab a gummy a second time to prevent some cases of saving it

New stat: Zombies killed

If someone opens the menu or controls UI in character selection, the countdown will stop

Track'n Splash train door has now a better behavior

Fixes:

AI in Clockwork, hot potato mode, now has priority on passing the potato rather than getting on top of a number

Gummies could freeze and stand still if get up and fall recovery happen at the same time

Zombarn tractor can no longer get stuck without moving

Steam only

: Gummies' outline in team mode is now in sync with the characters
Frequently Asked Questions
Which forums are available to find more information about the game?
Which controllers can I use when playing on computer?
You can easily connect console controllers to your computer and even create your own button configuration in the game.
Can I play online with more than one player on the same console?
Unfortunately not. When playing online only one player per device is allowed.
Is A Gummy's Life crossplatform?
Yes, it is! You can play with your friends no matter what device you are using (computer – Nintendo Switch for now, but coming to Xbox and PlayStation as well!)
How to unlock characters?
We can just say you will need to play offline with many players/bots (hard), have many kills and win many maps. Join our community to see what other players are saying about it.
What's the meaning of the different character statistics?
Each character has slightly different stats, being strength, defense and slippery (how hard it can be grabbed and hit due to morphological reasons).
Will the game be released on other platforms?
Yes! With a huge update coming in 2021, the game will be released on Xbox One, Xbox Series X/S, PlayStation 4 and PlayStation 5 – cross-play included!
Will there be any other characters or maps?
Of course! We are planning on surprising you with other maps and some more gummies. Feel free to make any suggestions in our Discord or social media.